Bounce Wheels
Speed Jumps and Spins with Bounce Wheels Remote Controlled Car

This Remote controlled car Jumps 31.5 inches high in the air and has 7km/H; speed.

It can spin 90°, 180°and 360° in less than a second.

Use a remote control or SmartPhone for controlling it. Includes a built-in camera for real time racing and viewing the space around the car.

Perform all sorts of amazing stunts in the air with Bounce Wheels. Jump over house objects, avoid obstacle an perform extreme racing tournaments. The car moves fast with lights and sounds.
Its remote control or wifi controlled mechanisms allows multiple cars to race together without interference in a 30-45m distance.
Bounce Wheels jumps, spins, an performs basic skills like moving forward, backward, turning left or right are also easy to operate, The Perfect toy for 14+ ages boys girls.
The remote control car that

JUMPS

to the sky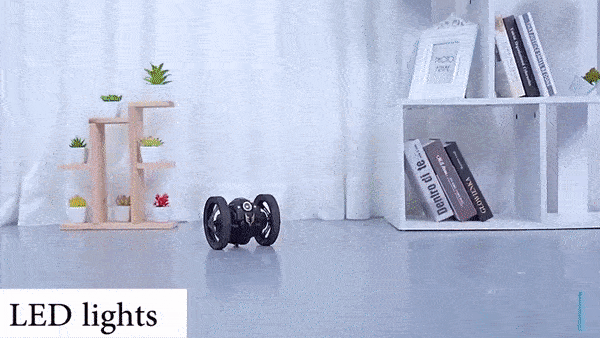 TOTAL FUN! with Bounce Wheels

360 Degree Super Fast Spins
Bounce Wheels can spin 90, 180 and 360 degrees in less than a second. It also provides basic forward backward and turnig movement.

Durable Tires and Material
Boun Wheels is equipped with 2 large shock-proof, extendable wheels to achieve the best performance while playing. It includes a button to turn them on/off.
The rest of the car is made of high quality durable material
Dimesions: 7.5*5.5*4.3 inches.

The amazing jumping technology of Bouncing Wheels allows you to jump obstacles get on top of tables and create extreme jumping obstacle races.

Bounce Wheels has a built-in camera that allows you to view the area recorded by the car with your smart phone.
Choose a Bundle and
Save Money:
Bounce Wheels is one of Wandhal's
Wireless & Camera Included

Remote Controlled & Mobile App Control
- Perform flips, spins and tricks with ease!
- Simply one of the most entertaining RC toy cars around!
- Jumps up to 31.5 Inches!<
- Running capacity: Up to 7km/h speed
- Remote Control Distance: 30-45m

It works great, my kids love it!
"This car captures my young son's attention fully! He is enamored in the jumping and spin feature and hardly ever drives it anywhere but bounces it off of everything (he even jumped it over my 10 month old baby which gave me quite a fright as it would have hurt if it actually had hit her- it's not a soft toy by any means)! He also is obsessed with lights so the fact that this car lights up gives it huge bonus points! Also, I didn't realize but it has some fun sound effects that are fun rather than how some toys can have sounds more on the annoying side, these are conservative only with the spin, jump and initial click of direction. Oh, and I have to comment that the remote looks a little cheesy in the pics but it is super easy to use and seems to be withholding the occassional "i'm done playing" toss to the floor."
Maria Weber
CH USA.
Fun and awesome product. It run great, flips over and tuns, even spins! It also jumps up on couch or chair. My husband plays with it with our dog, chases the dog then the dog chases and barks at it. Both love it. The only thing that we find a little annoying about it is that it makes all kinds of sounds and unfortunately there is no off switch for it. I'm sure kids will love the sound though.
Jonathan Bowles
MI, USA.


Bought it for my son. Didnt realize the controls were flip flopped compared to most RC items, but its showed in the pics. Luckily hes left handed so it worked out. Ive seen the other reviews. So far we've had no issues. this has been a good purchase.
Mariah Keller
MS, USA.
Choose a Bundle and
Save Money:

Wandhal is the go-to place for all things related to wellbeing at home. From oil diffusers, to air purifiers, robo-vaccums, and kitchen utilities.
We believe that home is the place where you should feel the best, and we want to help you by providing you with the best products for your comfort and happiness, so you can enjoy your time at home.